Wedding at Penthouse Riverside Wharf in Brickell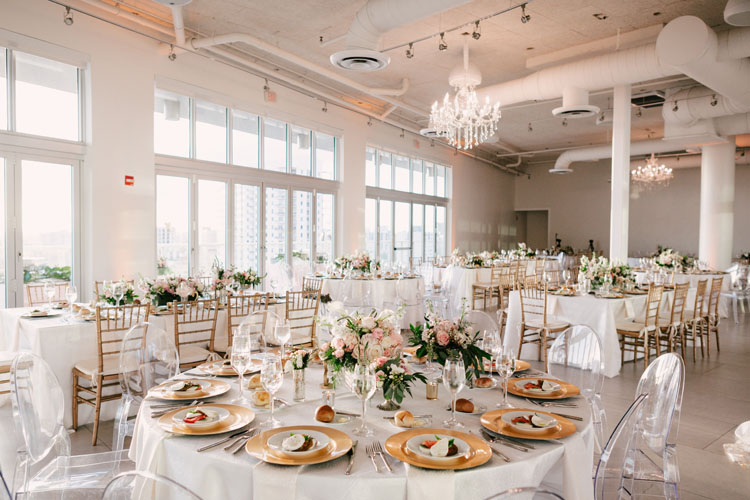 Downtown Brickell is one of the slickest, sexiest backdrops in the US. Or, as I like to call it, "Tropical Manhattan."
Our day started at the W Miami, an urban-lux hotel in Brickell. You can learn so much about a couple by their chosen locations, from the ceremony to the reception venues.
The hotel and the reception venue, the Penthouse on Riverside Wharf, suggested that Roxi and Joe are a contemporary couple in love with this city, the skyscrapers, and the lights. The Penthouse has increasingly become one of my favorite wedding venues in Miami. With a 360-degree view of the Miami skyline and industrial interior, It's only fitting to describe the view as an extension of the room.
At this particular wedding, we visited 3 locations. The second location is the Saint Patrick Catholic Church in Miami Beach. When working at more the two places in a day, strategy and preparation are crucial. I'm thankful that Roxi secured a wedding planner for her special day. Christina, from Bustled by Christina Nicole, did a phenomenal job. And thanks to her thorough planning, all the vendors were on point and on time.
I was pleased to meet new vendors like the makeup artist Judy Irizarry. Roxi is a gorgeous girl, and with Judy's magic, Roxi looks like the absolute Romanian superstar that she is. I also met SandyJames Fine Food, the catering company. The couple opted for a sophisticated buffet-style dinner, and the food was delicious (yes, people and vendors need to eat, too!).
Roxi and Joe's photographer is the well-respected Evan Rich. There's a reason he is one of the most popular wedding photographers in South Florida. Don't take my word for it; check out his work and remember I said, "I told you so."
Thank you to all the vendors, and of course, to the couple for choosing Creative Fox Films to tell their story.
Videographer: creativefoxfilms.com
Photographer: evanrphotography.com
Planner: abustledevent.com
Makeup and hair: www.skinvasbeauty.com
Catering: www.sandyjames.net